Organic ・ Vegan ・ Cruelty Free
Spoil, indulge and reward your skin by adding 'Happiness' to your skincare routine.
Formulated with powerful botanicals, oils and anti-aging peptides, our Certified Organic, Vegan and Cruelty Free skincare range is made with love and passion to deeply nourish, revitalise and protect the skin.
Afterpay is here - Indulge Now and Pay Later.
BUNDLE & SAVE
Up to 20% off our curated Bundles of Happiness
Voted Marie Claire Beauty Awards 2019 Finalist
Our #1 Best Seller
Awaken your skin and your senses with our iconic Revitalise Face Mist. Infused with an invigorating citrus blend, a couple of pumps is all you need to hydrate your skin with Happiness.
Shop Now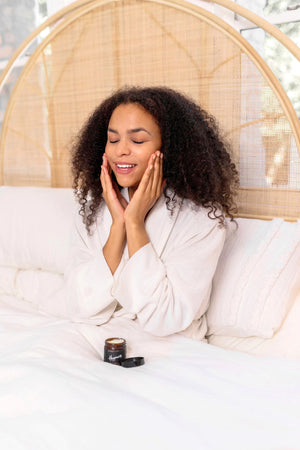 Infused with Heptapeptide-8 - the most powerful anti-aging peptide
Fountain of Youth
Wake up to a smooth, glowing complexion with our skincare saviour, Nighty Night Creme. This powerful blend nourishes while minimising fine lines and wrinkles while you sleep.
Shop Now
Customer Reviews
This face mist is something I don't leave home without. Whenever I need an uplift I just spray the mist over my face and it gives me an instant rejuvenation! It smells absolutely amazing as well. I absolutely love Nuggett & Charlies' Happiness products - 5 stars :)

Bobbie
I have been using Nighty Night Créme for months but I noticed results within days. It is a rich, balm-like cream which melts beautifully into my skin. I only use a small amount and press it onto my face and neck. When I wake up my skin looks and feels soft and smooth - love it!

Marisa
I use the Facial Exfoliating Crème religiously with the cleanser. I have never had such fantastic results until this came along. Plus I love the scent, takes me away. It does the job but it's not overly rough, quite gentle which is surprising when the results have been so good. Very happy :)

Jess